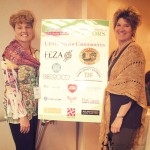 Wool, bamboo, silk, spinning, felting … OH MY!!! It is once again time for the annual Pittsburgh Knit & Crochet Festival. For years it has been at the Four Points Sheraton in Mars, PA, however, this year they have completely outgrown the space. You'll now find even more vendors, classes, and gatherings at the Westin Convention Center in downtown Pittsburgh.
This festival is more then a celebration of the fiber arts, it's a chance for those that can to pay it forward. Bring your extra fabric and yarn for the Salvation Army Fabric Shop that over the past few years has helped raise over $40,000 to help those in need.
Find out all the information – including the registration and class list – on the PGH Knit and Crochet Website.
A Few of the Featured Teachers
Robyn Chachula, one of the sweetest hookers you'll ever meet. [If you are a crocheter then you know that being a rockstar hooker is a good thing!!] She is the author of many books and patterns including Baby Blueprint Crochet: Irresistible Projects for Little Ones and the ever resourceful Crochet Stitches VISUAL Encyclopedia.
Steven Berg aka StevenBe, with his high energy style he encourages his fellow knit and crocheters to 'be inspired'. It's hard not to be inspired with his collection of patterns and the amazing fiber blend yarns you'll find at his booth. You don't want to miss the special events featuring Mr. Steven Be!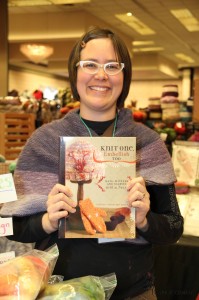 Cosette Cornelius-Bates, another Pittburgh native and author of Knit One, Embellish Too: Hats, Mittens And Scarves With A Twist, will be teaching a drop spinning class. If you have ever wondered how to make your own yarn then this is the class for you. Cosette is super crafty. She is well known for her simple cloth diaper covers and her Indie Yarn Show.
Remember to clean out your stash and bring any fabric or yarn that you will not be using to donate to the Salvation Army!!
The following two tabs change content below.
Alaina Frederick
is the founder of Dinker & Giggles. She is a mom to
four boys
and married to her best friend for over 11 years! Alaina is also a
freelancer
helping companies keep their business running smoothly.
Latest posts by Alaina Frederick (see all)