Dale the Mosquito: My First Amigurumi Crochet Experience
Thanks to the Pittsburgh Knit and Crochet Festival I have now been turned into a crafting machine. The colors, textures, fibers, patterns – oh my!
I have never known such a world to exist especially not one that I could ever possibly be a valued member of! For the past few years I have been making a few baby blankets using the stitches and pattern that my grandmother taught me to do. Each one the same exact combination of sc, dc and repeating. This has been my extent of creativity but welcomed relaxation and me time.
Flash forward to this weekend and hello over stimulation. I found out that there are yarns made from things like soy, seaweed, baby camel, milk, corn, luxury wools, and every combinations in between. Having only walked down the isles of local box stores I was overwhelmed by the choices and color combinations offered by all the vendors.
I purchased my first luxury wool hank of yarn made from an Australian blend of fibers. With the help of @KnitPurlGurl and a wonderful bystander I also learned how to take it from hank to ball (but not tight enough that it bounces…that's a no-no).

Today I was lucky enough to take a class with Stacey Trock [@Freshstitches] to learn how to make a stuffed crochet animal. The art is often referred to as amigurumi. Stacey is an accomplished crochet guru (if I may call her that) as she has published two crochet pattern books – Crocheted Softies: 18 Adorable Animals from Around the World and Cuddly Crochet: Adorable Toys, Hats and More.
We learned how to make her 'Dale the Mosquito' pattern. He's super easy, just a bunch of single crochet stitches – that yes even I can do! I did drop and pick up stitches here and there so my mosquito is a little off perhaps he got a little too close to the zapping blue light. I gave him to Parker who has now named him 'Buggy' and had him flying around the kitchen. They are now fast asleep together and I have a feeling it's his new BFF for a while!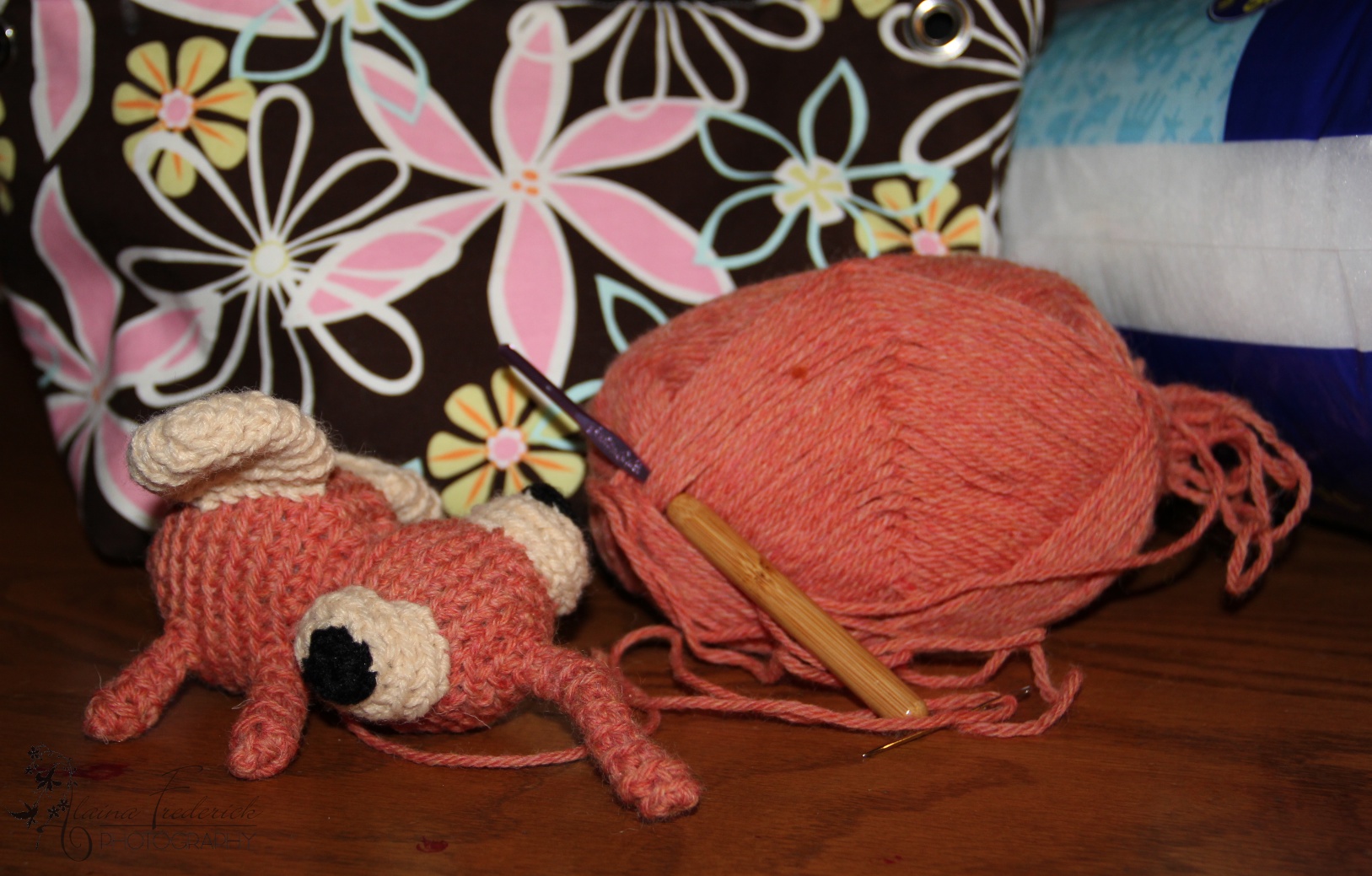 I'm absolutely loving what I learned today. Hunter got the Alastair the Caterpillar kit, a super easy crochet pattern for kids and beginners, for his birthday. As a high-functioning Autistic child, by the time school lets out he really needs some me time of his own to de-stress. After speaking with other parents of Autistic children I have decided that this is a perfect sensory activity for the afternoons.
So – stay tuned because I foresee many projects on the horizon and shall be on the hunt for easy crochet projects for kids too! Do you have any projects you'd like to share? Simply add your links to the comments below as I can't wait to check them out!!
Stacey now has a class on Craftsy called Woodland Animals. I signed up for this to help me better my attaching skills as sometimes I end up with a "bobble head"! Learn step-by-step how to crochet cute animals that make perfect gifts for baby showers, your kids, and more! Check out the Woodland Animals Online Crochet Class by Stacey Trock now.
Alaina Frederick, publisher of Dinker & Giggles, loves helping to create a healthy environment for her four boys and husband. Her favorite time of year is winter - trees blanketed with fresh snow, hot cocoa in hand, and a great book completing the package.
Latest posts by Alaina Frederick (see all)
Tags: amigurumi, crochet for kids