Gender Reveal Baby Shower Ideas
D
on't believe the haters who say your gender reveal party plans are a narcissistic or vulgar display of what used to be a private moment. I love this growing baby shower trend, and I hope more couples decide to open this happy, life-changing moment to a wider circle of friends and acquaintances. No matter how many of these types of baby showers I go to, or how many cute videos and pics I see online of gender reveal moments, I can't help but go all squishy inside. They are pure joy!
So, if you're planning one of these momentous occasions, either for yourself or for another Mommy-to-Be, here are a few unique ideas to stage the perfect gender reveal party.
Build a Baby Shower Theme around the Reveal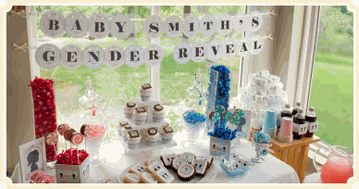 Obviously, a lot of things can change the tone and style of your shower, from the
invitations
to the deserts. If you already have kids, it can be so cute to get them involved and more excited about their soon-to-be big brother or sister status.
One idea that I really like is to take advantage of holiday themes, either around the date of the shower or for the due date. An Easter egg hunt can be a really fun group activity, either for the reveal or just as a party game. Christmas themes are full of fun imagery for the reveal party and you probably already have a lot of décor items you can use.
A note on colors: You can either go gender neutral, like with yellow or green, or mix the pink and blue (probably the most popular) for your baby shower décor and party favors. Purple (between red and blue) is also popular, though you have to get the right shade to make it not seem too girly.
Shower Party Games
If you're short on ideas, I always think regular baby shower games are appropriate. But for a gender reveal, it's really easy to make guessing games a part of the build-up to the big moment. Have an Old Wives' Tale quiz, where people can guess what old folk predictions for gender say about the baby.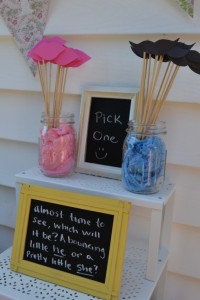 There are a lot of fun voting ideas, which I really like because it gets people really speculating. You can post the Mommy-to-Be's cravings and let people try to decide what they mean before casting their ballot. You can have people wear their vote, either pink or blue; you will get a few rebels wearing yellow, though!
The Big Reveal
The reveal is obviously the climax of this little shindig, but you want to build up to it. Party favors are a good intro to the party, especially if they're related to your party games and voting in some way. Start circulating the food and drinks to give everyone a chance mingle. Initiate your party games as a prelude to the big moment, and then dive into it.
If you have kids, it's definitely fun to let them be part of it. I really like dessert reveals (mostly because I just like deserts!), but a bunch of fun ways to spring the surprise. Enlist the help of your baker by giving them your sealed sonograms technician's envelope. They can then bake the cake with carefully concealed pink or blue batter, or bake colored frosting into a single random cupcake. There is gender reveal candies, cake pops, popsicles and a bunch of other sweets.
Of course, you can make your reveal part of a game, too. I really love the classic box of balloons; there's just something so delightful and happy about it. But you can also pack a piñata full of pink or blue candies, pass out some gender reveal scratch tickets or create a clue-laden treasure hunt with a package containing some baby shoes or clothes that give away the gender.


Whatever you do, it's going to be amazing, I promise. (I could just watch gender reveal videos on YouTube all day, and it's seriously cutting into my productivity!) And if you have family or friends who couldn't make it, don't forget to send out some cute baby announcements for them. Maybe you can send one to some of the cynics who are probably brooding about how everyone keeps "narcissistically" posting photos of their new babies online, just assuming that everyone else wants to look at their totally adorable bundle of joy.
Author bio: Diane Vaugn thinks that looking at pics of your gender reveal party on Pinterest is like a little piece of Christmas morning. This is good, since she writes for BabyShowerStuff.com and gets to gawk at and write about cute baby shower gear all the time.
Tags: baby shower ideas