Babywearing: Childcare Providers Need Sanity, Too
Last year, I transitioned from a PhD program in English literature to a career in childcare. You can read about that here, but today we're talking about the fact that since I started caring for children full-time, baby carriers have become a passion of mine.
Ok, fine, it's an obsession. Why am I obsessed with baby carriers?
For starters, I have really bad luck with strollers.
Have you ever tried holding onto a stroller and a dog's leash while also calling someone to ask for directions? When a skateboarder flew past, the dog lunged. The leash injured my wrist, the phone fell to the sidewalk, and the stroller came this close to rolling into the street. I could go on, but the point is that I will choose a carrier over a stroller every time.
I'm a nanny, now, caring for an infant for ten hours a day, five days a week. She has taught me the difference between baby wearing and simply using a baby carrier; I wear her around the house, not just when we're out and about. We both love it!
Bonding Time
Cuddling with babies is awesome, but getting stuff done is awesome, too. Each baby is different, but the child I spend my days with naps in two styles: either she sleeps for twenty minutes in her crib, or she sleeps for two hours on my chest/in the carrier. If you don't know why I prefer two-hour naps, you've clearly never met a baby. Lots of cuddling helps us bond. Later in my babywearing guest post series I will go into detail about why babywearing facilitates a healthy child/caregiver bond.
Two hands are better than one. 'My' baby is still small enough to carry with one arm/hand, but even then, it's a bit precarious to try and both comfort her and make or warm a bottle (I am not a wet nurse). I just hate putting her down and letting her cry while she waits! Babywearing makes it possible for me to comfort her and use both hands for the bottle. Magic!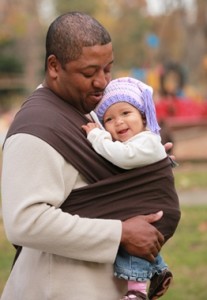 If Your Child is in Group Childcare
Make babywearing easy for your provider, especially if you have a baby who must be held. My mother runs a home daycare, and when a baby who must be held joined the group, she was at a total loss. Then, a parent gave her a carrier and saved the day. The baby was held, and the other children got the attention they needed. Note: your childcare provider will appreciate such a donation, even if yours is the most independent kid in the group.
Oh, and dads? You need this, too! You'll thank me for it the first time prep a bottle for an impatient baby without having to put her down, especially if she is used to breastfeeding. Yes, babywearing is manly!
Anne-Marie Lindsey is a stay-at-home-mom, aspiring HypnoBirthing Instructor, mental illness fighter, wife, dog owner and auntie. I write about everything, including the beautiful, fun, peaceful, scary, stigmatized and painful on my personal blog,
Do Not Faint
where motherhood meets depression and anxiety!
Latest posts by Anne-Marie Lindsey (see all)
Tags: baby carrier, babywearing, child caregiver, childcare