Breastfeeding in Public: What is Your Opinion?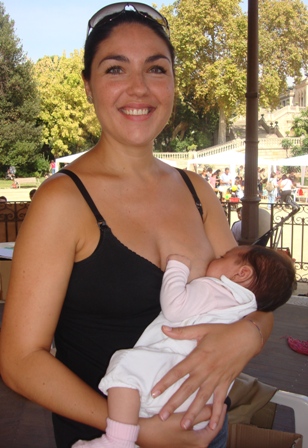 The subject of breastfeeding in public is one that really divides opinion. On one side you have those who see breastfeeding as one of the most natural things in the world, something that no mother should be ashamed or afraid of doing no matter where she is.
On the other side you have those who feel that breastfeeding in public can sometimes be indecent and serves only to make everyone else feel uncomfortable and awkward. In all honestly I think that for the most part people do not have a problem with a mother nursing her baby in public as long as it is done discreetly. However, should a mother have to be discreet and what should she do to tackle pre-conceived prejudices?
An Example
On the 28th December 2011 droves of nursing mothers descended on Target stores to nurse their babies in a public show of protest based on the experience of Michelle Hickman. During November that year Michelle was asked to move from the women's clothing department and in to a changing room in order to nurse her baby. Her experience it seems was one of many. After she received what she considered as an unsatisfactory response from Target HQ Michelle and her friends used Facebook to organise the Nurse in. It raised a few eyebrows but most people were happy to carry on shopping as normal.
Hopefully it is now apparent exactly what a nurse in is. The Target nurse in was just one of many that have taken place across the world. These nursing mothers want to 'normalize' public nursing so that it is no longer an unusual sight in public places. A lot of stores and restaurants state that they support breastfeeding but a lot of mothers are finding that their in store experience does not reflect this. Like the Target nurse in, many are born out of a single experience and soon gather traction when picked up by sympathising mothers, many of whom can relate to these bad experiences.
Can you see both sides?
Whatever your opinion you can probably see the difficulty that arises on both sides. Mothers are out and about and suddenly their child is screaming for a feed. What are the options? To get dirty looks from people because your child is making a noise or to get dirty looks from people because you are breastfeeding. What a choice! On the other side you have the store owners and managers who come under fire from other customers when a mother breastfeeds publicly. They then come under fire again from the nursing mother who does not feel it is right to be asked to move or cover up. Again, not exactly win win.
Whatever your opinion it always helps to try and put yourself in the other persons shoes and retain an open mind no matter what. It is very likely that in 10 years' time seeing a mother nurse her baby at the supermarket will be as normal as seeing her do her shopping!
Vicky works alongside Lorna Drew Nursing Lingerie who makes patented nursing bras. She enjoys writing about all things relating to parenting and motherhood.
Tags: Breastfeeding