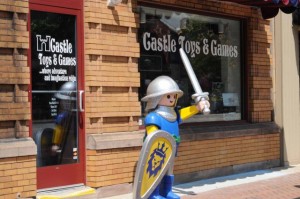 It's been years since my trip with Hunter and Karter to the Castle Toys & Games in Beaver, PA. The day we visited the store there was a reading and the kids got to play with some of the train tables.
The biggest thing I remember from that trip besides the laughs and giggles from the boys as they played with the toys was the lack of smell. When you walk into a Castle Toys & Games store you may or may not noticed that you smell dreams, imagination, and nature – no stale plastic smells at all.
That's because the store is full of wooden toys, puzzles, cloth dolls and books. There are very few toys that require batteries as they understand that kid-powered imagination is the best source of energy!

Year 'Round In Store Events
Don't miss their in store events – ranging from learning how to make balloon animals to making jewelry from recycled paper beads.
Semi Annual Clearance Event
Just a reminder that the semi annual clearance event is coming to a close TODAY – August 2nd, 2012. At last count the stores had over 1500 items priced at $10 or below! What a great time to stock up for holidays and birthdays while keeping your dollars local.
Before you head out to the Wexford location print this Buy 2 Get 1 Free coupon provided by Pittsburgh Kids Guide. Coupon valid thru August 2, 2012
BEAVER
682 Third Street
Beaver, PA
Phone 724.775.5067

Monday-Friday: 10 a.m. – 6 p.m.
Saturdays: 10 a.m. – 4 p.m.
WEXFORD
12033 Perry Highway
Wexford, PA
Phone 724.933.0060

Monday-Saturday: 10 a.m. – 6 p.m.
Alaina Frederick, publisher of Dinker & Giggles, loves helping to create a healthy environment for her four boys and husband. Her favorite time of year is winter - trees blanketed with fresh snow, hot cocoa in hand, and a great book completing the package.
Latest posts by Alaina Frederick (see all)