Unlike popular belief homeschool is not just a pile of book, workbooks, and sitting on your bum all day long. Not when there is creativity afoot with fun file folder games!



These file folder games are not just for homeschooling. They are great for your pre-schooler and older kids as a supplement to what they are learning in school and having some fun without even realizing they are *gasp* learning!
I put the games featured in the photos together using Mama's Learning Corner File Folder Games from the iHN Omnibus Bundle. It was quite easy and now that I know what I'm doing it's really fun. The boys loved them SO much I started making my own!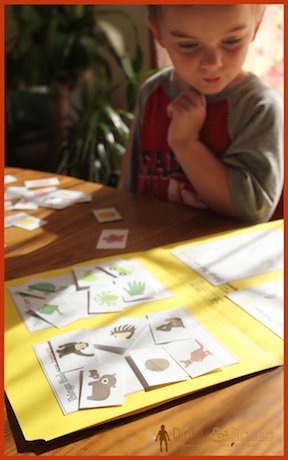 Just print, laminate, cut, tape, add some velcro and a kiddo!
File Folder Games Benefits
These easy-to-make and fun-to-play games are great for helping introduce or reviewing colors, letters, numbers, addition, subtraction, the states of the US, and I could really just go on and on. Subjects often covered in these games are Reading, Math, History, Science, and Geography.
They also help with hand-eye coordination and with a house of four boys also help teach patience and taking turns!
The games are self-contained in a file folder and include photos with activities that [for our home] are geared towards children pre-school through 3rd grade. So far our collection has four file folder games in it but I plan on making a new one every other night as long as we have ink and laminating pouches!
Supplies Needed
PDF of your File Folder Game
File Folders
Scissors or Paper Cutter
Time (great for putting together while chatting with your spouse)
Directions
To make I simply printed out the PDF files with the games. Many pages I laminated as they printed and then cut the shapes out. Some pages I first cut the items then arranged them in the laminating pouches to save my pouches on the smaller items that did not print on a full-page of card stock.
Then I dry arranged them on the file folders. I got some bright primary colored folders to make it more colorful. Once I was happy with the arrangement I started using my rolling tape adhesive and laying them out. Then added the mini Velcro dots to where they needed to go and presto – instant fun learning in a folder!
For now I'm storing them in a plastic bin that was the perfect height for the folders. Now they slouch and fall but as I fill the bin they'll fit nicely. I also added some tape to the bottom bend of each folder just to help add some extra strength to the fold.
Sign up for our newsletter (in the sidebar) and get a free file folder game. You can also check out our shop as we continue to add new file folder games and other activities for your kiddos!
Alaina Frederick, publisher of Dinker & Giggles, loves helping to create a healthy environment for her four boys and husband. Her favorite time of year is winter - trees blanketed with fresh snow, hot cocoa in hand, and a great book completing the package.
Latest posts by Alaina Frederick (see all)