A Gluten Free Bread That Tastes Good?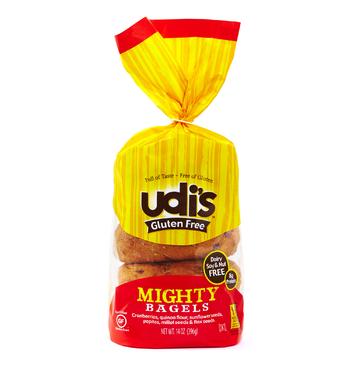 I. love. bread.
I love the crunch of the crust. The fluff of the inner. The way butter melts on it.
How perfect I found it to go with hot tea. Bread is just an amazing invention.
What I don't like is how I feel after I eat it…. my stomach aches. My rashes flare up. I even get headaches. So what is one to do?
I've tried making my own gluten-free breads and let's just say that the kids had a really fun time playing with the dough. I've hit up the health food stores and their interesting gluten-free isles. I found a few possibilities but they most fell short of my gluten packed comparison.
Except the Udi's Gluten-Free line. I've actually bought a few products before being asked if I'd like to try some of their quick breakfast solutions. So naturally a brand I was already familiar with – you bet. I'll warn you now that I have little photos of us actually eating the items as they were GONE before I had the cardboard boxes out to the recycling.
I wouldn't have expected anything else with four vultures growing boys in the household. The muffins were a HUGE hit and on the grocery list this week to get some more. As is the granola, especially my favorite the blueberry cashew. But let me focus on one that I wish I got a photo of but I totally forgot so please accept my apologies! Okay, I'm really not sorry as well I was too focused on enjoying it.

So yummy! #glutenfree awesomeness from @udi pic.twitter.com/tZONIblaRt

— Alaina Frederick (@AlainaFrederick) July 18, 2013
Udi's Gluten-Free Mighty Bagel
Delicious.
After the boys got done attacking selecting their muffins and devoured them. That morning I actually had a few quiet moments to myself. Jealous, aren't you! I grabbed my favorite tea mug, filling it to the brim with the seaming aroma of my black tea. Placed the pre-sliced bagel into the oven to crisp a bit. Then slathered my favorite local cream cheese all over it.
It wasn't until then that I sat down to actually eat it. While doing the typical "cereal box" reading of the packaging. What was in these bagels? What made them so mighty?
Bite.
Hmmm…These are actually pretty good. Bagel gone. Tea drank. I was a happy camper. I had just found a replacement to my once-in-a-while toasted treat! While it wasn't as light and flaky as a piece of bread it had the typical dense texture one would expect of a bagel. It toasted well and filled my belly much faster and longer then I expected.
What's in a Udi's Bagel
Filled with healthy ingredients that are rich in protein, vitamins, and minerals (8g protein, 3g fiber per bagel), these bagels will give you the boost you need to get your morning off to the right start.
Ingredients [Per UdisGlutenFree.com]
INGREDIENTS: WATER, TAPIOCA STARCH, BROWN RICE FLOUR, NON-GMO CANOLA OIL, EGG WHITES, DRIED CANE SYRUP, TAPIOCA MALTODEXTRIN, SUNFLOWER SEEDS, DRIED CRANBERRIES (CRANBERRIES, SUGAR), TAPIOCA SYRUP, MILLET SEED, FLAX SEED, WHOLE QUINOA FLOUR, PUMPKIN SEEDS, XANTHAN GUM, YEAST, SALT, PEA PROTEIN, CINNAMON, CULTURED CORN SYRUP SOLIDS AND CITRIC ACID (NATURAL MOLD INHIBITOR), ENZYMES.
Easy Gluten-Free Breakfast
Farm fresh eggs
Grass feed turkey (or pork) bacon
Fresh herbs
Locally grown mushrooms
Udi's Mighty Bagel
Amish Butter or Cream Cheese
Simply brown mushrooms with your choice of herbs. Crack an egg or two onto browned mushrooms. Cook. Serve with a side of bacon and a Udi's Mighty Bagel with butter or cream cheese.
And repeat for each person joining you for breakfast. You will not have left overs!!!
The Official Disclosure Thingy: Udi's sent the products. We provided free-of-charge the hungry bellies for sampling of said products.
Alaina Frederick, publisher of Dinker & Giggles, loves helping to create a healthy environment for her four boys and husband. Her favorite time of year is winter - trees blanketed with fresh snow, hot cocoa in hand, and a great book completing the package.
Latest posts by Alaina Frederick (see all)
Tags: gluten free