Great Apps for the Homeschool iPad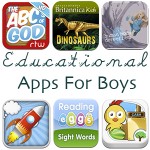 Today I shared some of my favorite educational apps over at The MOB Society. I listed just a few of our top free and paid apps. The iPad has been a vital part of our homeschooling day allowing the boys to have fun yet still be re-enforcing their lessons.
We have always loved the Human Body Detective adventures nut are enjoying all the new wonderful apps that keep hitting our radar. I'd love to hear what kind of apps or computer programs you are using in your home! Please share your favorites with us below.
Alaina Frederick, publisher of Dinker & Giggles, loves helping to create a healthy environment for her four boys and husband. Her favorite time of year is winter - trees blanketed with fresh snow, hot cocoa in hand, and a great book completing the package.
Latest posts by Alaina Frederick (see all)