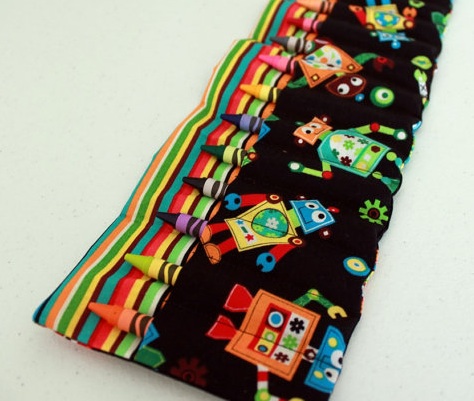 The day that this fantastic handmade crayon holder arrived in the mail was a interesting one to say the least. Thankfully I had opened the package in the car and stuck the roll and note from 19 Elephants right into my purse.
Fast forward through the afternoon till my husband came home from work and he was in a lot of pain. I forced him to head to the ER and boy did that crayon roll save the day. Not only did I have it in my bag but it was already filled with crayons. The boys were able to entertain themselves in the ER waiting room with the help of the toys there, the crayons and some random paper.
So what is a crayon roll or as some call them a crayon holder? In the case of the one from 19 Elephants it's a very nicely handcrafted strip that has individual pockets to hold a crayon (or two). Then the entire strip rolls up and ties and can then be placed in a craft bag, purse, etc.
About 19 Elephants
19 Elephants is a beautiful shop on Etsy filled with handcrafted items. You'll find everything from hair bows both sewn and crocheted to puppets. Crayon rolls and even reusable snack bags. All expertly crafted to perfection and beautifully displayed by shop owner and artistan Beth. She calls it "handmade happiness" and we can't agree more!
Love for the Crayon Roll
I've never used a crayon roll to tote around crayons for the boys. Typically a ziplock baggy did the trick but since we've stopped buying plastic bags I really didn't have anything to put them in that was practical. It's always bothered me when we go to restaurants and the boys end up with a blue piece of coloring placemat with accompanying blue and yellow crayons. Now tell me how is a child suppose to be artistic on a blue colored paper with a blue and yellow crayon?
One thing that I noticed right away was how spectacularly random it was that the crayon roll Beth sent almost matched my bag perfectly. It wasn't even planned that way. I received the super fun Robot print as seen in the above featured image. The strip patter on the inside of the roll is basically the same strip on my bag. It's like it was all meant to be!



Crayon Roll to the Rescue in the ER
I loved while at the ER, restaurants and even at home when the boys use the crayon roll there is not rolling of crayons off of tables. Everything is right there at their fingertips. No digging through a plastic case to find a color as they can see them all at a glance. The pockets are each big enough for two regular sized crayons or one of the jumbo crayons for little hands.
This has made itself a permanent fixture in my bag as well as small cut up pieces of paper rolled up inside of the roll. You never know when you will have a crafty moment that needs a filling – or to get a 4 year olds mind off of magic markers!


Buy a Handcrafted Item Now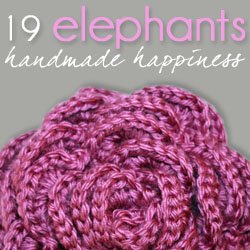 You'll love Beth from 19 Elephants – super nice and incredibly talented. She has even generously offered a limited time special exclusively for Dinker & Giggles readers. You can save 10% off your 19 Elephants order by using "GIGGLES" at checkout!

Win It
One lucky reader will win their own Crayon Holder Roll from 19 Elephants. All you have to do is click the buttons on the Rafflecopter form below. Winner will be drawn May 1st, 2012.

a Rafflecopter giveaway
19 Elephants supplied the crayon roll with crayons for review – I supplied my 100% honest opinions as well as the crafty kiddos!
Alaina Frederick, publisher of Dinker & Giggles, loves helping to create a healthy environment for her four boys and husband. Her favorite time of year is winter - trees blanketed with fresh snow, hot cocoa in hand, and a great book completing the package.
Latest posts by Alaina Frederick (see all)