Newly released in the Dinker & Giggles shop are our file folder games. Simple and fun these are perfect for educational entertainment for the young learner in your home or classroom. Geared towards the homeschool family but great for the classroom too!
Ever wanted to learn sign language? That is one thing I have always wanted to teach my son. Now you can have fun teaching your children how to count to nice using this fun and interactive file folder game. Features ways to teach counting, numeral recognition, and reading all in one self-contained game.
Count to Nine: ASL is a great buy at $2.00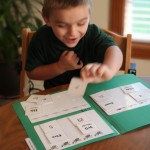 A foreign language is pretty much a part of everyone's lives these days; especially those who homeschool. But who would think of Mandarin? With this file folder game your child (or you) can learn to count to six in Mandarin. What a fun and different way to learn a new language at any age!
Count to Six: Mandarin is also a great buy at $2.00
Karla Bond
Karla Bond is the Assistant Editor of Dinker & Giggles. In addition to loving to spend time with her husband and beautiful little boy she enjoys writing and sharing on her personal blog
Bond With Karla
.
Latest posts by Karla Bond (see all)