How to Make Your Own Baby Food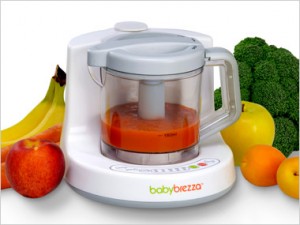 We all know that breastfeeding is best for baby, but what do we do when our little one is at the age where we need to introduce some solid foods into his or her diet?

The American Academy of Pediatrics recommends the following about when to introduce your baby to solid foods:
Can he hold his head up? Your baby should be able to sit in a high chair, feeding seat, or infant seat with good head control.
Does he open his mouth when food comes his way? Babies may be ready if they watch you eating, reach for your food, and seem eager to be fed.
Can he move food from a spoon into his throat? If you offer a spoon of rice cereal and he pushes it out of his mouth and it dribbles onto his chin, he may not have the ability to move it to the back of his mouth to swallow it. It's normal. Remember, he's never had anything thicker than breast milk or formula before, and this may take some getting used to. Try diluting it the first few times, then gradually thicken the texture. You may also want to wait a week or two and try again.
Is he big enough? Generally, when infants double their birth weight (typically at about 4 months) and weigh about 13 pounds or more, they may be ready for solid foods.
The AAP recommends breastfeeding as a sole source of nutrition until your baby is 6 months old and when you add solids, continue breastfeeding until the baby is at least 12 months old.
Introducing solids to your little one is an exciting milestone. I always have my camera handy to catch those memorable food cover faces when my babies try new foods for the first time. Some things they will like and other things will produce that "I'm totally disgusted face."
I wondered, What is actually in these processed baby foods from the grocery store? Are they really safe for my baby? Is there a better, more natural way for my baby to get their solid nutrition?
With my first 2 children, I fed them nothing but traditional store bought baby food jars. Now that my 3rd child is old enough to start on solids, I would love this time around to learn how to make my own baby food. I wasn't sure where to begin though. Do I just mash up a banana with a big spoon and feed it to him? Are their natural baby food recipes I could make? I began my research! Making baby food is the healthiest, most affordable way to feed you baby
Choosing the right equipment:
The first step is finding a good tool to puree your food. There are some great products out there made especially for making bay food such as the Beaba Babycook or the Baby Brezza. There many products out there to choose from. You can also simply use tools you already have in your kitchen such as a hand blender, regular kitchen blender, a food processor, or a good old fashioned fork!
Choose the Best Produce:
When you are buying produce to make homemade baby food, make sure you choose the freshest fruits and vegetables you can find and use what you buy within a few days from purchase to ensure freshness. Great ones to start with are apples, apricots, bananas, plums, pears, peaches, carrots, sweet potatoes, peas, or winter squash. Get creative!
Preparing the Food:
Wash your produce thoroughly
Remove and part of the food that could cause choking such as peels, pits, or seeds
Cook any vegetables that need softening (You can bake, boil, or steam)
Puree your fruits and vegetables using your tool of choice
Store properly
Storing Your Homemade Baby Food:
There are many safe and convenient ways to store your homemade baby food. Which method you choose is a personal preference.
Ways to Store Homemade Baby Food from Momtastics Wholesome Baby Food – This site gives great ways to store you homemade baby food such as ice cube trays, the freezer bag method, wax paper/cookie sheet method, glass jars, or refrigerator storage
Weelicoius: How to Store Homemade Baby Food from Planet Earth: Videos about Food for Families- Weelicious shares a very informative video here about how to store you homemade baby food safely
Some Great Recipes:
Stage 1 Homemade Baby Food Recipes from Momtastics Wholesome Baby Food – Here you will find some delicious Stage 1 Recipes. This sites lists recipes from a variety of fruits, veggies, and grains. You will also find nutritional values of each recipe such as which vitamins and minerals they contain so you can find the most nutrition food for your baby!
Homemade Baby Food Recipes from NatureBaby - A very informative site with recipes for all baby stages, finger foods, tasty treats, and even some allergy-free recipes. You can also download printable nutrition and daily serving checklists.
What are some of your favorite ways to prepare homemade baby food? What is you favorite storage method? Do you have any favorite recipes that you would like to share? Let us know!
Emily Steves is the mother of three children ranging from Newborn to 11 years old. As a stay-at-home mom she enjoys learning from her kids in the most unexpected ways. When not wearing her mother and wife hat, Emily is busy on her journey to become a Certified DONA Doula. Her lifelong passion is to help other women throughout the changes in pregnancy, labor, and beyond.
Latest posts by Emily Steves (see all)
Tags: Homemade Baby Food, Make Your Own Baby Food, Organic Baby Food