How to Stay Cool While Pregnant During the Summer
The dog days of summer are almost upon us. Most of us look forward to the beautiful weather and greenery. However, few of us really enjoy the extreme heat. If you are pregnant this time of year, you are in for a special treat. The heat and humidity can be bad enough, but facing them while pregnant can bring on a whole new slew of challenges.
Staying cool while pregnant is not something you only want to pursue for comforts sake. You also need to keep the health of your baby in mind. Excessive heat and the accompanying dehydration will do neither one of you any favors. I don't mean to alarm, but becoming overheated can cause a number of potential health issues for you and your baby.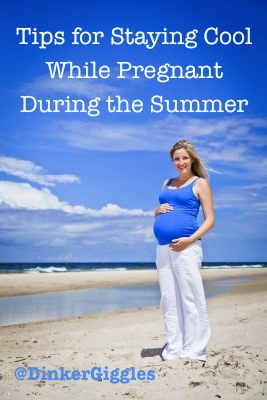 In serious cases, overheating can cause pre-term labor. You can also develop issues with your amniotic fluid levels as well if you don't take care of yourself. Other effects of overheating yourself include headaches and fatigue. So, as you can see, you will be doing yourself a favor by staying as cool as possible this summer.
Although difficult, finding relief during the summer is attainable and can be managed with a little foresight and planning. Below are some tips for staying cool this summer even though your 'oven' is on.
How to Stay Cool While Pregnant
Stay Hydrated
This is very important to the health of you and your unborn baby. Drinking plenty of fluids will help keep you cool and comfortable.  it will also help alleviate the annoying swelling in your hands and feet that come on in the last few months of pregnancy.
Choose loose and comfy clothing helps to stay cool
Face it, you are going to sweat, not only because you are hot, but because your hormones are acting out. Nothing is more uncomfortable during a hot, humid summer day than tight clothing. Pick loose fitting breathable fabrics in light colors. Light colors reflect more heat than darker colors.
Stay active
That's right, keep busy with your normal activities. But plan them around the heat. Do your chores in the cooler morning temperatures. Enlist the help of your spouse and other family members to help you out with those responsibilities that require a good deal of effort, such as grocery shopping or house cleaning.
Get out and have fun
Don't let the summer pass you by.  Stay active but don't overdo it. I'm not talking about training for a marathon. Don't squirrel yourself away in a cool dark room for several months. Get out and do the things you enjoy. Spend time in the garden, just don't overdo it. Enjoy strolls with your husband during the cool mornings or evenings.
Go swimming
Swimming is a great way to stay cool or do some other form of low impact exercise. Put on your maternity swim suitand take the plunge. Swimming is not only a great exercise for when you are pregnant, but it will also cool you off and keep you comfortable. The relief you experience from feeling weightless in the water will more than offset the loathing you feel of others seeing you in a bathing suit. Besides, it can help lessen problems you may be having with swelling, pregnancy induced hypertension, or high blood pressure.
Do you have tips on how you stayed cool while pregnant?
Share them with us in the comments below!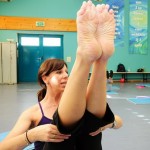 Kristen Hurst is a stay at home mother of three who enjoys blogging. She received her bachelor's degree in fashion marketing, and writes often about nursing clothes. When she's not trying to juggle the lives of Casey, Austin and Ben, she enjoys painting and catching up with a great Jane Austen novel.
Featured Image credit: mathom / 123RF Stock Photo
Tags: Pregnancy