Construction Paper Imagination Craft
This is what you get when you allow your kids freedom with glue, scissors, and construction paper. Hunter made an awesome art piece of living with the dinosaurs.
Supplies Needed
Oodles of Construction Paper
Safety Scissors
Glue Sticks
Stencils, Rulers, Stickers – oh my!
A healthy dose of imagination
Directions
Set ground rules [i.e. no coloring on the carpet or table]
Pass out supplies
Grab your latest crochet project
Sit back and listen to the wheels turn
And the aftermath… but then you just remind them if they don't pick it up then no special treats. Here a special treat is watching How It's Made or National Geographic channel. Yes, I know. I'm blessed.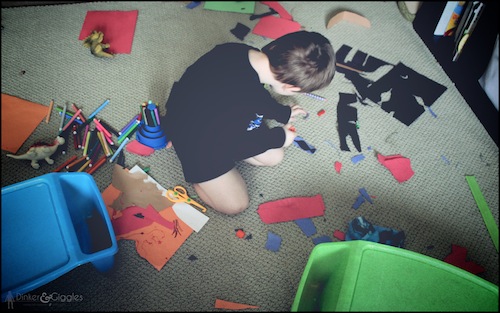 When was the last time you set out craft supplies and said 'go for it'?
Alaina Frederick, publisher of Dinker & Giggles, loves helping to create a healthy environment for her four boys and husband. Her favorite time of year is winter - trees blanketed with fresh snow, hot cocoa in hand, and a great book completing the package.
Latest posts by Alaina Frederick (see all)
Tags: crafts for kids, homeschool