As a nursing mother, I was faced with either breastfeeding in public or finding a place sneak away and "hide" to nurse my baby. I wasn't very comfortable with the idea of whipping out my breast in a public place and it was pretty inconvenient to have to find a restroom, closet, etc. to do this necessary task privately.
I tried a few different nursing covers. Some were difficult to put on, were expensive, and others just plain didn't work. At times, I would resort to simply throwing a big blanket over myself and my baby, but it was hard to tote around a big, bulky blanket with me everywhere I went.
I received the LacTank in the mail to review. Finally something that looked like it could work for me! I was very excited!!
The LacTank Nursing Cover
The LacTank, a modest tank top for lactating women which provides comfort, coverage, and convenience. All 3 things I was looking for in a nursing cover! They are hand-made by a mother who knows what it's like to breastfeed in public. She created this wonderful product that every nursing mother should try!
"Every nursing mother knows how uncomfortable it can feel nursing in public. After having my first child I decided I was done hiding in bathrooms and making myself go to great lengths to somehow find a way to nurse in private.

It seemed to me that there was not yet a solution for nursing modestly when you have an active lifestyle and active child.

This problem inspired me to create the LacTank (the modest tank top for lactating women)

This innovative nursing cover provides comfort, coverage and convenience. What more could you ask for?"
~Rachel Coplin, LacTank Inventor
LacTank Features: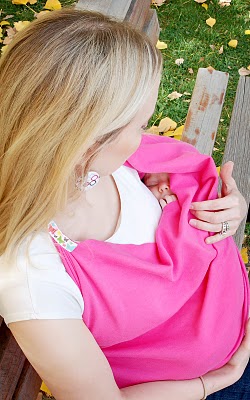 It is made of a cotton/spandex blend of fabric that breathes (which is great for baby) and stretches.

It is advertised as wrinkle-free and easy to wash. (Another great thing!)

The LacTank is not too bulky and can be folded up to fit in most diaper bags. (This to me was one of the best parts because my diaper bag is already filled up to the max and I really couldn't fit much else in there.

)

No other nursing cover allows you to have use of both arms at all times so you can re-adjust or support your baby in a way that is comfortable for both of you.

One of the best features of this nursing cover is your baby will not be able pull it off or move it while they are nursing

(My baby is at the age where he grabs EVERYTHING right now so this was great!)
What I Love About the LacTank
I must say, I absolutely LOVED this nursing cover! As stated above, the material was very comfortable, It washed easily in my washing machine, and fit nicely in my diaper bag. My big complaint with other nursing covers was that my baby did not seem comfortable in them. With the LacTank, he doesn't act "smothered" or sweaty inside of it. He nurses very well. The best part: It looks VERY stylish! I loved how this looks on! Like its name, it looks just like a cute tank top. I also love that it is created by another mom like myself. I would much rather purchase a quality handmade item than something that is mass produced from a large chain store.
What I Disliked About the LacTank
I have tried a few different covers before getting this one and I have to say that the LacTank is by far my favorite. The one thing that I struggled with (and I quickly learned) was how to get the tank on correctly. I received no instructions with it. After a few minutes of my husband and I twisting it over my head (and getting stuck) I got the hang of it. I now have become a pro at putting it on one handed!
Connect with LacTank Now
Win a LacTank
Rachel Coplin the designer and creator of LacTank has generously offered one of you a chance to win your own LacTank to make nursing in public more comfortable for you. Just use the below Rafflecopter form to enter. Winner will be drawn April 17th, 2012.


a Rafflecopter giveaway
For a limited time you can use 'DINKERANDGIGGLES' in the LacTank Etsy Shop to save 10% off your order!
Emily Steves is the mother of three children ranging from Newborn to 11 years old. As a stay-at-home mom she enjoys learning from her kids in the most unexpected ways. When not wearing her mother and wife hat, Emily is busy on her journey to become a Certified DONA Doula. Her lifelong passion is to help other women throughout the changes in pregnancy, labor, and beyond.
Latest posts by Emily Steves (see all)