LilyPadz Nursing Pads Review
One of the first products I ever bought online that was for parenting was the LilyPadz Nursing Pads. At the time there was only one size available and I bought them from a site that is now one of my favorite sites to not only drool over the amazing products but the mom behind the site isn't so bad herself.
Wanting to keep my husband dry those early nights that the baby started sleeping 3-4 hours instead of waking every 1-2 hours I tried many types of nursing pads. The disposable ones stuck to me and if you can think of ripping duct tape from very sore nipple – YEAH OUCH!
I also had a growing stash of cotton nursing pads which also stuck to me but not nearly as bad as the disposable ones. The problem with both options was even with my sleeping bra on they'd move around and leaks happened. The husband and the bed got wet and it just wasn't the best of times.
So after some searching I found some reviews for the LilyPadz Silicone Reusable Nursing Pads and decided to try them out. Found a great price at Mom 4 Life and ordered them. My comment about my excitement of just receiving them in the mail is still up on the Mom 4 Life site.

So, what are LilyPadz Nursing Pads?
LilyPadz are the revolutionary alternative to traditional nursing pads combining such unique features as: flexibility, breathability, invisibility, and"sticks-to-you-ability".

The special soft, flexible and non-absorbent silicone (the same material in most baby bottle nipples) conforms to your breast for a secure fit. This allows you to wear whatever you like with confidence–swimsuits, tight-fitting shirts, or even go braless while sleeping!
LilyPadz Features At-a-Glance
Breathable
Latex-Free
Ultra Thin
Non-Absorbent
Non-Collecting
Adhesive-Free
Economical
Dermatologist Tested
Made in the USA
What I Loved
I loved that these stayed put. Yes, they sort of "stick" to you but it's a different kind of sticking then the disposable and cotton pads that had gotten damp then needed to be ripped off like a bandaid. Because of the slight pressure and seal I also noticed that I didn't even leak at all. There were some rare nights that the baby would sleep all night long and well leaking was inevitable with that kind of buildup in the milk ducts!
Another thing that I loved is being able to wear them under any bra and they helped keep the nipples under control. Anyone that has nursed a baby knows that just the sound of a crying baby (yours or a stranger) can sometimes get things going and not only do you leak but you also get all perked up. The LilyPadz kept that under wraps so I was the only one who know I was a Madonna-in-Training.
What I Disliked
One of my biggest issue was actually one of small portions. At the time LilyPadz were only available in a one size fits most type deal. I'm a larger mom and hence larger feeding machines. So they didn't fit me quite right but even with that they still performed. LilyPadz are now available in two sizes so it seems that I wasn't the only one with this issue and they have now fixed this problem.
Another dislike was the price when compared to wool, cotton, or other reusable nursing pads. Dollar for dollar I was able to get 3-6 sets of the other forms of reusable nursing pads for the cost of one set of LilyPadz. So for a struggling mom on a budget I can see how they may get frustrated with their nursing pad options. However, the quality and the LilyPadz actually work made the price just right for me.
Where to Buy
LilyPadz Nursing Pads make a great gift for yourself, upcoming baby shower, a new mom or even an experienced mom that may be having issues with their current nursing pad option.
We recommend buying from Mom4Life.com. At the time of this writing LilyPadz were on sale and Mom 4 Life has the best customer service, staff, and community!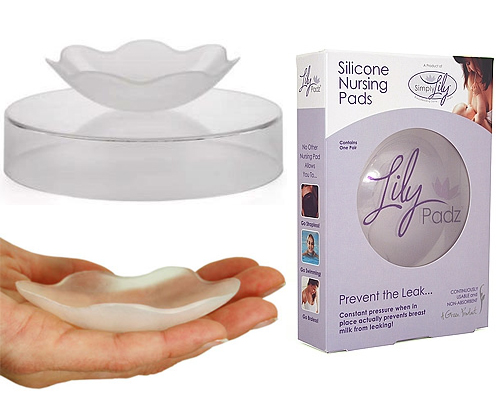 Contest Closed
Dinker & Giggles loves LilyPadz by SimplyLily so much that we want a lucky reader to be able to experience them for themselves. We will buy a pair (winner selects size) and have Mom 4 Life ship them directly to you!
Hurry we will be selecting a winner on December 29th, 2011 from entries received by Midnight EST on December 28th, 2011. Winner will be announced via our newsletter.
Required Entry
Leave a comment telling us you want to win!
Bonus Entries
(Please leave a separate comment for each completed)
Winner will be drawn at random using And The Winner Is plugin from comments received. Winner will be announced via our newsletter and will have 48 hours to claim prize or a secondary winner will be selected. Please make sure that alaina@dinkerandgiggles.com is in your "white list" on your email to make sure that you receive our newsletters. At any time you can send a email to alaina@dinkerandgiggles.com to request a url of our newsletter archives should you miss a newsletter. This post is not sponsored by Mom 4 Life, Facebook or Twitter. Affiliate links have been used when mentioning Mom 4 Life and LilyPadz.
Alaina Frederick, publisher of Dinker & Giggles, loves helping to create a healthy environment for her four boys and husband. Her favorite time of year is winter - trees blanketed with fresh snow, hot cocoa in hand, and a great book completing the package.
Latest posts by Alaina Frederick (see all)
Tags: Breastfeeding