One for Pennsylvania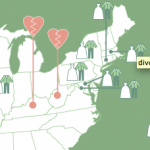 When I saw this infographic with the inside scoop on divorce I wasn't surprised to see Alaska on the list of states with the highest divorce rates. As much as I'd love to visit the great last frontier from the research I've done it's not a wonderful place to live. The decreased sunlight and difficulty in travel has given many residents higher rates of depression.
One state I was surprised to see on the list – no not the state of insanity – Pennsylvania. Nice to see that Pennsylvania is on the list of states with the lowest divorce rates! I'm happy to say that Marty and I have made it past the average span of a 1st marriage celebrating our 9th year of marriage this past October.
It's no surprise that the top reason for divorce is lack of communication – so make it a point today and everyday to talk with your spouse. Not just about the daily tasks or plans but also relive some childhood memories and envision some dreams! For those of you with children it also helps to be on the same page when it comes to your parenting style as well to reduce the stress levels.
From: Bankrate Insurance's InsuranceQuotes.com

Alaina Frederick, publisher of Dinker & Giggles, loves helping to create a healthy environment for her four boys and husband. Her favorite time of year is winter - trees blanketed with fresh snow, hot cocoa in hand, and a great book completing the package.
Latest posts by Alaina Frederick (see all)