Pittsburgh's Finest Pumpkin Festival: Triple B Farms
The nights are crisp and the days have a colorful hue to them. It can only mean one thing- FALL has arrived in Pittsburgh.
So look out apples and corn stalks!
One thing you should make sure to attend is the pumpkin festival at Triple B Farms. This festival runs throughout the month of October. With so many different activities you'll want to visit once a week- if not more often! Not only are their activities to do, but the gift shop has pies, canned fruit, toys, and other gifts. Speaking from personal experience: get a LOT of the fruit spreads and jams. They are SO good. So what are these activities that the family can enjoy?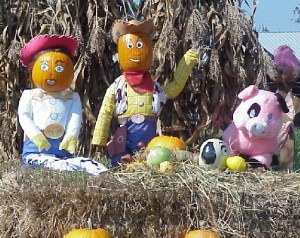 Storybook Pumpkinland- over 200 characters from your favorite stories and movies made from pumpkins. The display is amazing and the time to put this together is incredible.
Hay Rides- an old fashioned tradition at its best
Funny Farm- animated animals and characters, set to fun-filled music
The Big Blue Boo Barn- mildly scary haunted barn with animated characters. Good for children as young as 5 years!
Children's Barnyard Carnival
Barnyard Animals- watch the goats climb up the "Goatfield Bridge"
'Feedbag' Refreshments- [Weekends Only] pavilion with homemade apple cider donuts, caramel apple desserts, sandwiches, beverages, pumpkin desserts, popcorn, and more!
Romping Rope Maize- find your way through a maze of rope trails, including a climbing wall and slide
It's a wonderful way to spend your weekend or you can even take your Girl or Boy Scout troops and earn badges! Learn all the details of this event and local farm at Triple B Farms website http://www.triplebfarms.com
Alaina Frederick, publisher of Dinker & Giggles, loves helping to create a healthy environment for her four boys and husband. Her favorite time of year is winter - trees blanketed with fresh snow, hot cocoa in hand, and a great book completing the package.
Latest posts by Alaina Frederick (see all)
Tags: green living