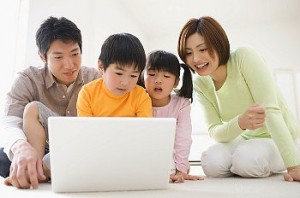 Now that Hunter is old enough to read he's been asking to go online after seeing ".com" on his toys. I'm not sure how he put two and two together but it happened.
He's been wanting to go to "l-e-g-o 'pencil dot' c-o-m". That is how he asked to go to the website the first time now it's just Lego.com. He loves playing the games and looking at the new building sets. It's all wonderful until I notice that the computer screen has nothing on it that it should.
Time to realize that the kids aren't so innocent anymore and predators are lurking everywhere waiting to get at their information. There is only so much that I can do to protect them much of it is going to have to be on them to know right from wrong. To take our guidance and apply it to their everyday life.
So, how do you talk to your kids about using the computer and being safe online? Since I'm just hitting this threshold for the first time I am turning to father google to get some good child identity theft tips.
Teaching Your Children Online Safety
Some things can't be taught so the first line of defense is proper supervision. The computer, tablet, and other items connected to the internet should be used in areas where they can been seen and observed.
Talk to your children in age appropriate terms what is and is not allowed. In addition to teaching them boundaries use parental controls to limit their access to only specific websites.
Children should never fill out forms or give out personal information. They may see a form to enter on a website they are allowed on however they need to know that mom or dad is the only one allowed to fill it out.
Make sure they know they can confide in you. Our kids know that sometimes other windows do popup on the computer and it's not their fault. They know that it's OK to come to mom and I'll fix the screen. Sometimes kids will just keep clicking in hopes that it goes away, so it's important they know they are not in trouble.
Create An Online Safety Contract
Once your children have been told what is expected of them while being online it may be time to create a online safety contract they can sign. Making it 'official' sometimes helps further engrain the rules – plus they can't say later "but mom [insert super whinny voice] you never told me I couldn't [insert sweet innocent batty eyes looking at ya]"
Here are some possible items to highlight:
No sharing of personal information. This includes their address, phone number, email address, parents place of work, their school or school mascot, or other identifying information.
Never make plans to meet up with someone meet online even if in a special area meant only for children.
Let parents know if something 'weird' pops up or doesn't seem quite right
Use the computer for fun and education. Online time is not meant for cyberbullying. Child will talk with parents if they feel someone is being mean to them.
Only people who will know passwords for gaming sites, social networks, and other locations is the child and the parents. Passwords should not be shared – even with best friends – under no circumstances.
No downloading or installing of anything until mom or dad have given the okay.
In addition to proper supervision, talking with your children, and setting up parental controls to help protect your child you can also use services like Identity Guard® kID Sure℠ to monitor activity in their name. You don't want to be filling out applications for school loans to find out that your child is thousands of dollars in debt for buying a boat when you live in the desert!
Because yes identity thieves don't just take advantage of adults, Identity Guard® now offers its latest innovation — kID Sure℠, ­the most comprehensive child ID theft protection available — to help families stay better protected. This kind of protection has become a necessity in today's totally connected online environment where spyware, malware, keylogging and other online threats are only a click away.
If you do happen to find out that your child's identity regardless if it was your child that gave out the information you can use these resources for identity theft victims for helping recover and get back your child's life.
Do you have other items that should be added to a online safety contract with your children? Share your tips and suggestions below!!
I was provided free of charge the ability to use and review the kIDSure and IDENTITY GUARD® products. I will also be compensated monetarily for my time and efforts. This being said all opinions – and freaking out over my boys safety and security – are all of my own pondering.
Alaina Frederick, publisher of Dinker & Giggles, loves helping to create a healthy environment for her four boys and husband. Her favorite time of year is winter - trees blanketed with fresh snow, hot cocoa in hand, and a great book completing the package.
Latest posts by Alaina Frederick (see all)