Reflections on Last Year & Big Changes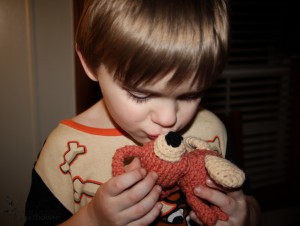 The other morning while going through my RSS reader I realized after all the 'new year' posts that I hadn't written one myself. So no Tif you are not the last blogger to welcome in the new year!
I'm not one for resolutions having failed miserably at so many over the past few years. So, instead I'm just going to think about the past year and all that came with it. It has for sure been a roller coaster ride for our family. Through each valley and uphill climb there was one common factor – our family did it together and each time with more and more reliance on Him.
One of the biggest events in 2011 was one of those spiral effects that brought lots of changes with it. We moved from our 960 sq ft apartment to our 1600 sq ft home. The move in itself was a big change as it brought a new school for the boys, gallons of paint, and lots of new storage space!! Living on a cul-de-sac also brought new friends, adventures with bikes, and Hunter's first tree climbing experience. Which by the way, ending in a freak out session realizing that once he was up he then had to get down.
The move also brought challenges having gone from renting for years to homeownership there are many things I never even gave more than a simple thought to. There was now a lot to worry about, be prepared for and a nice long and still growing 'Honey Do List'. Although, the new list of things needing tweaked and worked on finally gave purpose to my husbands collection of tools.
In the early fall I took the boys on my first ever trip just them and me. It was one of the best weekends I have ever had and still one of the fondest memories of this past year. Each time I look at a photo from those days (especially when the boys are fighting and throwing temper-tantrums) I'm reminded that with the bad there will always be a good to even it out.
We moved with only 2.5 months left in Hunter's first grade year. Those few weeks was a rotten experience with a teacher that 'checked out' early and a kid that just had his world flipped. This school year we experienced some actual bullying with some older girls picking on Hunter and his friend on the bus. Other than those few bullying incidents it's wonderful watching him grow into his own person. Also, slightly awkward knowing Marty and I can no longer spell things when talking in front of the boys. At Christmas he had an idea that his brother was getting a [stuffed] p-u-p-p-y.
This year was the first that I did not promote or have the kids participate in Halloween festivities. It's a moral dilemma going on in my head and heart. Marty says we didn't do Halloween because it's also our middle sons birthday weekend – and that I was unprepared. I however have a different view. I have become more and more uncomfortable with the commercialism of some holidays especially Halloween – one filled with horror and evil. Instead I'd much rather (if I had to celebrate something) make a time of the changing seasons and the lower prices on one of my favorite liquids – apple cider.
Thanksgiving was a mixed batch of emotions. For the first year I hosted my mother, grandparents, my sister and her husband. I also made the turkey, stuffing, mashed potatoes, and the gravy. I stressed myself out wanting everything to be the ultimate picture of perfect. The gravy ended up with a flour taste to it and the turkey took an extra 2 hours to cook. At first I thought I had ruined the evening and everything wasn't good enough. It took a few days for me to look back and realize that the entire night was an success. Our guests went home with full bellies, containers of left overs, and a few that weren't driving were slightly tipsy. A blessed evening spent talking, laughing and going down wonderful lanes of memories.
Speaking of wonderful memories – thanks to social media I got to connect with a woman I meet a number of years ago when I was running Dinker & Giggles as a natural children's boutique. Her name is Tif and I carried her line of Dara & Scott bags. She is one of those people that are hard to forget and is incredibly talented. I was surprised that she remembered me with all the people she worked with but she did and now I have a new favorite mom blog to read Halo Hula. I really look forward to getting to know her on a new level and being inspired to tap into the creative parts of my being.
In the past few months I have enjoyed my rediscovered love of being crafty. I have been writing in my journal more and not just on my private thoughts but releasing some ideas for a book and some new poetry. Yes, I'm taking a stab at the whole published author title. Literally. I once stabbed the pages with my pen I got so into what I was writing and the anger behind it! I'm also really enjoying the textures, colors, and losing myself while crocheting. So far I've only completed an infant blanket but I enjoyed each and every sc, dc and chain! (Please don't ask me to explain what any of those mean cause I'd have no clue what I was talking about LOL)
Christmas quickly came and for once I actually had a tree up, lights all over it and covered with fun ornaments before Christmas Eve. Again I found my head and heart was battling the children and their beliefs. I have nothing wrong with them believing in the impossible – but it should be the impossible that is possible because He exists and not because it's a way for stores to make money. I didn't talk Santa this year but instead tried to let the kids know about doing good for others and taking time to slow down and appreciate all that is around you – your family, the beautiful sunshine, and yes even the frigid temperatures.
For the first time in seven years I actually switched up my gift to my mother. I normally give her frames with an updated photo of the boys and this year she did get three frames. I knew the second the boys gave her the package she thought she knew the contents. My night was made complete as she slowly took the winter themed paper off the first frame. Her eyes grew a little bigger and her jaw a little lower. Yep – I totally got her this year! I made silhouette cutouts of the boys in leaves and it was the most unique gift I've given in a long, long time.
Now we look ahead to the months ahead of us. I know there are some amazing changes ahead of us – one of the biggest is well the smallest. Grandma is going to need another frame as our youngest is going to be a big brother come June. I'm still a few weeks away from finding out if Maggie [our dog] and I will continue to be outnumbered. It hasn't been my ideal final pregnancy but with each surprise has come a silver lining. Firstly, I found out that I have a 10cm teratoma on my right ovary. Had I not gotten pregnant it may have been a very painful way of finding out it was there.
It will be an interesting spring/summer that is for sure but one filled with new beginnings and a final chance at experiencing some of the greats events that have ever happened to me. Feeling the baby kick for the first time, going through the process of labor and feeling that rush right after the baby is born. Being able to bond and feed the baby, a experience that I have really been missing over the last few years. Getting to use all the bamboo cloth diapers, nursing pads, bamboo baby toys – oh and getting to wear my baby again! A very fun summer indeed!
I'm finding that as I study for my Doula and Childbirth Educator certifications that leaving my books out is a easy way of 'explaining' to the kids where babies come from. I look forward to sharing about the books I read, the beautiful births I attend and providing you all with information and resources to help you along your journeys from birth to those pre-teen years raising our next generation of gentlemen.
Let's stay connected in 2012:
Alaina Frederick, publisher of Dinker & Giggles, loves helping to create a healthy environment for her four boys and husband. Her favorite time of year is winter - trees blanketed with fresh snow, hot cocoa in hand, and a great book completing the package.
Latest posts by Alaina Frederick (see all)