Eco-Friendly Easter: Handmade Crafts & Natural Dyes
With Easter fast approaching, a common thing to do with the little ones is color Easter Eggs. This is one of my kids favorite holiday traditions. Every year around Easter time, we head to the local grocery store, buy a few dozen eggs, one of those overpriced Easter egg dye kits, and color away! We lay out newspaper on the dining room table, drop those little color tablets in cups of water, and of course make quite a mess…but it is so much fun!! This year however, I am on a bit of a "Green" kick and that made me think.
Are these Easter egg dying kits safe for my kids? What is in them? Is there a more "Natural" way to color eggs that would be more eco-friendly and cheaper? There HAS to be something better!
I did what I always do when I want more information on something. I ran to my laptop and began to search for Natural Easter Egg Dyes. I was on a mission to find something before I went out to the store and bought a rather pricey egg coloring kit.
Safe Easter Egg Dyes
How To Make Your Own Natural Easter Egg Dyes! from EcoCrazy Mom One of my favorite websites! I refer to the site frequently for information and I learn so much here! This article on Natural Egg Dyes give some very creative ideas. These are much more time consuming than using a conventional egg dye kit, but I agree that it IS time well spent. From Red to Violet Blue, you will find a way to naturally make many dyes here!
3 Eco Easter Egg Dyes / Painting Options from Nature Moms More great ideas here to make natural egg dyes! Use red wine to make purple eggs, blueberries will make blue eggs, or grab some coffee to create a brown egg dye. I would have never thought of these great ideas! Here you will also learn how to color your eggs using natural plant-based paints. I have to try this!!
After seeing all of these great ideas, I wanted to find MORE ways to make this Easter a little more Eco-Friendly. Back to my computer I went in search of more ideas!
Basket & Candy Alternatives
10 Easter Basket Candy Alternatives from Nurturing Naturally Looking for non-candy Easter basket ideas this year? Look no further! Here you will find ten great options for keeping your Easter basket "sweet" but sugar-free. What are some non-candy items that you put in your child's Easter basket each year?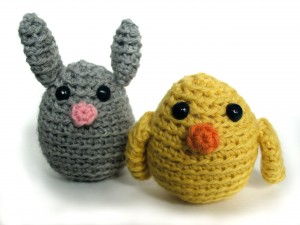 Easter Crochet-A-Long from Fresh Stiches Are you feeling crafty? Do you know how to crochet? Head to this site, crochet an adorable spring-themed FreshStiches pattern and share it before April 8, and you will be entered to win one of three great prizes! These are so adorable and many are free amigurumi crochet animal patterns!!
Reisenthel Baskets from Reuseit.com The classic Reisenthel Market Basket now available in a miniature size. It encourages kids to say no to disposable plastic and paper bags when shopping with Mom or Dad. This is a perfect alternative to your traditional Easter baskets!
Have YOU ever made natural Easter egg dyes? Tell us about it! What are some of the other ways that you made your Easter season a little more eco-friendly?
Emily Steves is the mother of three children ranging from Newborn to 11 years old. As a stay-at-home mom she enjoys learning from her kids in the most unexpected ways. When not wearing her mother and wife hat, Emily is busy on her journey to become a Certified DONA Doula. Her lifelong passion is to help other women throughout the changes in pregnancy, labor, and beyond.
Latest posts by Emily Steves (see all)