Thrive Art: Online Art Classes for Kids {GigglesTalk Radio}
Podcast: Play in new window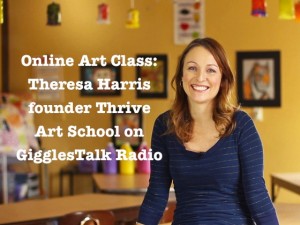 We are joined by Theresa Harris, founder of Thrive Art School and creative force behind the new campaign for Thrive Online Art Classes for Kids.
Thrive Art School is located in the Seattle, WA area but the new Kickstarter Campaign is the grassroots for taking the experience of Thrive Art School classes around the world.
Anywhere you have a internet access your child can have high-quality art classes; not just for homeschoolers but for anyone with a child that has a creative thread in their being!
Links mentioned during our show:
We'd also like to thank our sponsor, Reading Horizons. A wonderful company providing resources for families and teachers to instill the love of the written word in today's youth.
Make sure to check out Theresa's Thrive Art Online Classes Kickstarter Campaign to help support her dream in helping our children succeed!
Alaina Frederick, publisher of Dinker & Giggles, loves helping to create a healthy environment for her four boys and husband. Her favorite time of year is winter - trees blanketed with fresh snow, hot cocoa in hand, and a great book completing the package.
Latest posts by Alaina Frederick (see all)
Tags: crafts for kids, gigglestalk, gigglestalk radio, homeschool, kids crafts, podcast, thrive art