Why We Use Cloth Diapers: Courtney Fisk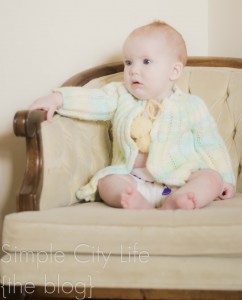 Every family has their own reasons for choosing to use or not to use cloth diapers with their children. For some it was a choice much like the decision to get pregnant in the first place – something known and absolute from day one.
Others, like Courtney, fall into it through personal experiences like medical or financial reasons that make using disposable diapers a thing of the past.
Regardless of the reason why we start using cloth diapers there is one thing we all have in common – the other green living that happens naturally once cloth takes over enters our lives!
From Anti-Cloth to Medically Inspired
"First off, I am a devoted cloth diapering mom, which means we are a devoted cloth diapering family. This is not something I set out to do, it just kind of happened.
I was a full on disposable diapering using mama with my first baby. I knew two people that cloth diapered back then and I wasn't interested in adding more laundry to my plate. End of story. I never though twice about what I was putting on my baby's butt. She didn't complain. So week after week, month after month, I filled up our garbage cans with diapers, usually wrapped in a plastic bag, yikes! Little did I know (or choose to learn about) that I was contributing to the mass amount of waste that just sits in landfills. Sad.
Well, about two years later I had my second baby and the plan was the same, or so I thought. When my new baby developed a rash over the entire diaper area, I began to do a little research. Although we did keep plugging away with disposable diapers, we had entered into more eco-friendly disposables, all natural chemical free. After learning more about what is in a typical disposable diaper I knew we would never go back.
I loved our TenderCare diapers. Unfortunately, finically it was getting harder to afford these diapers. At the time we were living close to where they are produced and had been buying them in bulk. After we moved it was hard to find them and pay the additional cost for shipping if we chose to do so. It was at that time that I saw an add in the fabulous MetroParent Magazine for a diaper shop not to far from home. I immediately packed the kids up and invaded this little shop in the heart of Riverwest. All my questions were answered and I left with five brand new bumGenius v1.0 diapers. From that day forward I was hooked.
We made it through my son's diapering days from 6 months to 2 years on those diapers plus another five that were his first birthday present. I washed daily… and never thought twice about it. I now have a third little one and I am proud to say that at seven months old he has worn cloth diapers since he was one hour old!"

Courtney Fisk is a mom who has a love for simplicity, photography and the written word. She shares about her journey called life on the Simple City Life blog where you'll find beautiful photos, easy to follow green living tips, and a tear followed by a chuckle.
If you would like to start using cloth diapers we welcome you to check out our shop to see our bamboo cloth diapers that fit from newborn through the toddler years (they fit our 4-year old who needs night protection).
Do you have a cloth diapering story to share?
Please contact us with your story as we'd love to allow our readers to know why YOU picked the road less traveled.
Images used with permission from Courtney Fisk of Simple City Life Blog
Alaina Frederick, publisher of Dinker & Giggles, loves helping to create a healthy environment for her four boys and husband. Her favorite time of year is winter - trees blanketed with fresh snow, hot cocoa in hand, and a great book completing the package.
Latest posts by Alaina Frederick (see all)
Tags: why we use cloth diapers