On The Hook: A Bib to Drool Over
Ha! You like that title A Bib to Drool Over? This week on the hook is a wool bib to help control the insane amounts of drool my four month old is producing.
I'm using 100% Merino Wool and the Sneaky Mouse Bib pattern from Stacey Trock's book Cuddly Crochet: Adorable Toys, Hats, and More.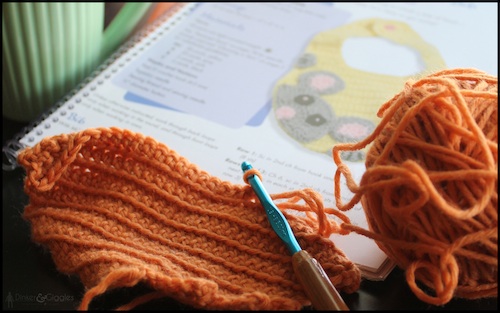 Just like with wool cloth diaper covers I'm hoping by using wool for the bib it will help take the moisture away from the baby's face to keep his skin dry and rash-free. I am using a fun burnt earthy orange instead of the yellow in the pattern example.
I'm looking forward to seeing how it will look with the sneaky little mouse and natural wood button handmade by one of my local homeschool mommy friends.
What's on your hook, needle or nook this week?
Alaina Frederick, publisher of Dinker & Giggles, loves helping to create a healthy environment for her four boys and husband. Her favorite time of year is winter - trees blanketed with fresh snow, hot cocoa in hand, and a great book completing the package.
Latest posts by Alaina Frederick (see all)
Tags: crochet projects