Get to Know the D&G Family
Hello. My name is Alaina and I am a domain junkie. Basically it's a fun way of saying I'm a self-proclaimed geek. Geeks are cool you know! I'm outnumbered in my home. I have a wonderful husband and four amazing boys. It's myself, the dog (Maggie) and our two guinea pigs (Bambi & Thumper) against the rest of the household. So gifts of pink, sparkly items are always welcomed!
Here are a few things about me that you might not already know:
I have The Weather Channel app in my Entertainment folder on my iPad
I use to collect elephants but then realized a collection of breakable items and four boys don't mix well!
My nightstand drawers are full of yarn. (Shhh don't tell the husband)
I've walked on the same ground that Brad Pitt did in Seven Years in Tibet
I write blogs posts using HTML – the visual editor trips me up.
I really love the movie Seven Years in Tibet
I snort when I laugh. Like really laugh. Gut rumbling laugh.
I talk about yak balls on Skype. (Really, you HAD to be there!)
My kids sense of humor comes from their mother. (Lord, help them!)
I just started a reading plan that will get me through the entire The Message Bible in 365 days via Olive Tree Bible app
I will take a hot tea, blizzard, and snuggles with my kids over a million dollars any day!
I work from home managing social media for cool people and companies.
Did I mention I have four boys? Oh, I like to claim 'mommy brain' a lot too!
Meet My Peeps
The Husband is a warehouse worker by day and superhero by night. Any time mommy can't do something one of the children profess "Ask Daddy, he's really strong. He can do anything." He's a superityduperdy father and loving husband. He enjoys the winter more so than I. Loves to camp with the boys and is looking forward to teaching them to fish and hunt.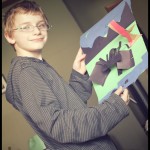 Dinker is our beanstalk. Not even to the double-digit years and he's already past my chin and his shoes are bigger than mine. Has a love/love relationship with dinosaurs and anything that relates to them. He has a small collection of stuffed owls and owl items. He is amazingly sweet and gentle with his youngest brother. He's quick to love and slow to hate.


Giggles is small but mighty. I see him someday playing a sport that involves hand/eye coordination. He also has a loving soul. Anytime we are out and I get him a special treat he always asks for some to take home to his brothers. Love that he thinks of others more than himself. Works hard and plays even harder. He also loves his sleep just like his big brother.


Chunky Monkey is a bundle of strong-willed joy. He is the only one in the house that is a morning person which can cause issues with our milk and cereal supply. He hits a growth spurt it seems every three days eating everything in site. He is crazy fast too. Fair warning to anyone wanting to catch him – let him wear himself out before pursuing him. He is the first and last to give you a hug and tell you he loves you. Such a sweet voice too.


Bubba is our baby. Only ten months old and already trying to walk. His personality is starting to shine and I have a feeling he is going to be a super loving momma's boy. I'm totally okay with this as I've never had a kid prefer mommy over daddy once they hit the toddler stage. He's a silly one and his laugh, oh his laugh. I could listen to that kid giggle all day long!