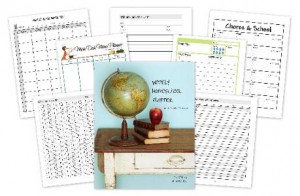 Do you struggle to complete your year-end homeschool portfolio?

Do you know at a glance how many days of instruction you have completed?

At the beginning of the 2012-2013 school year I shared about my excitement for the Weekly Homeschool Planner that would hopefully make our first homeschooling year go smoothly. So did it?
Well I'll be honest, the first half of the year I was amazing at updating the planner. I followed the advice of veteran homeschoolers that planning is the key to homeschool success.
Over time I got into the habit of not scheduling our school out, letting the advice that was so key slip on by.
Panic time – portfolios are due in a matter of weeks! There was so much from before Christmas that I completely forgotten about but needed the information to include in our state required portfolio. The Weekly Homeschool Planner saved my tush!
I was easily able to print out the attendance sheet after reviewing the planner and my momAgenda to know we had for sure covered more than 180 days of instruction.
The notes on the editable PDF planner triggered my brain on all the early field trips we took throughout the year. Now that I have completed an entire year and can see the true value of this planner I'm SO happy I bought it. I personally am taking this 'summer break' to fully prepare for the next school year. I'm also going to ditch the unschooling vibe and go back to a more structured approach like we did in the beginning part of the year. Having an Autistic child I know that this would make his life (and mine) a lot less stressful.
Why am I sharing all of this with you?
I wish someone had told me how difficult a portfolio can be to put together when you don't document throughout the year in an organized fashion.
I wish someone had really explained the value of a planner designed specifically for the unique needs of a homeschool family
I wish someone had smacked me for waiting so long to buy it in the first place and should have never stopped using it!

You can purchase the Weekly Homeschool Planner for just $20! This high quality PDF planner can be used year after year after year – and with multiple children. Where else can you get this value?
A Sampling of What's In the Weekly Homeschool Planner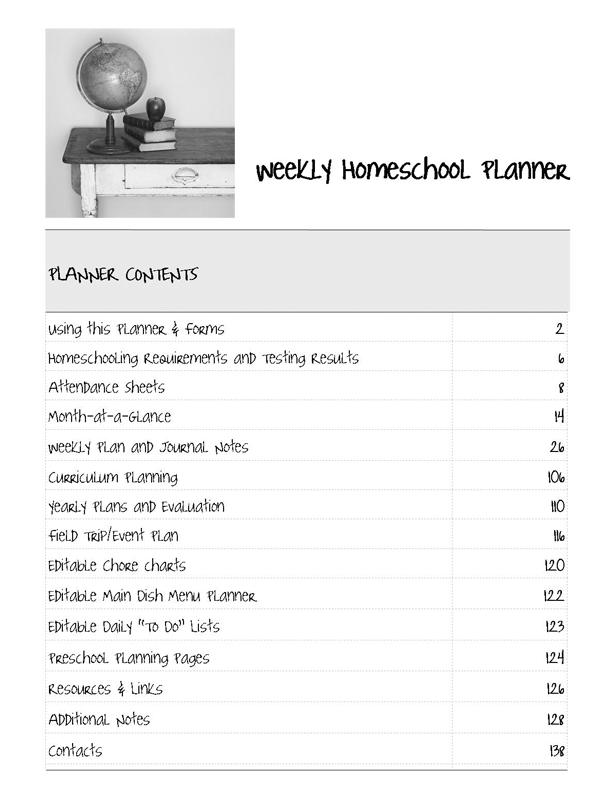 12 blank month-at-a-glance pages
40 weeks of weekly planning and journal sheets: each
page can be customized to the subjects that your
family studies and can be saved to your computer!
Yearly curriculum planning sheets
Yearly planning and evaluation sheets
Customizable chore charts
Standardized testing and yearly assessment result tracking
Homeschooling requirement planning
Plus being a editable PDF (meaning you can use this planner year after year after year after year) no one has to know that mommy has horrible handwriting and should be doing the handwriting program with her kids! That right there takes this planner into triple time bonus.
Don't forget every state has different requirements for their homeschool students. So it's important to make sure you've planned your year to check off each one of those items. The Weekly Homeschool Planner has this built into the planner to make sure all your t's are crossed and your i's are dotted.
Not a homeschooler?
I know many of you are not homeschoolers and may be wondering how this could be beneficial for you. Well if you are a stay-at-home parent and have preschoolers in the house there are sections for planning tasks for preschoolers. Also, the customizable chore chart is a great tool for helping manage the kids chores and keep everyone in check.

Save your sanity now and purchase the Weekly Homeschool Planner for just $20 . Be ready to face your homeschool day with ease and confidence!!