Easy Outdoor Activities for Kids During Summer
Children—at least my children—are like puppies. They need to move and run around. If they don't get the opportunity, their energy is bound up inside and they get yappy and do undesirable things.
I've learned this through experience and yet I can forget–until my daughter is running laps with her shopping cart and my son is jumping off the couch. Then I'll realize that they're a bit too wound up for inside time and I shuffle them out the door to expend some of that wonderful energy.
Often, after they've had the chance to run free for a bit, I'll note a lovely transformation: I have calmer, more peaceful children who are ready for quiet activities and (hopefully) naps.
With summertime fully upon us, opportunities to for little ones to explore outside abound–especially if I'm intentional.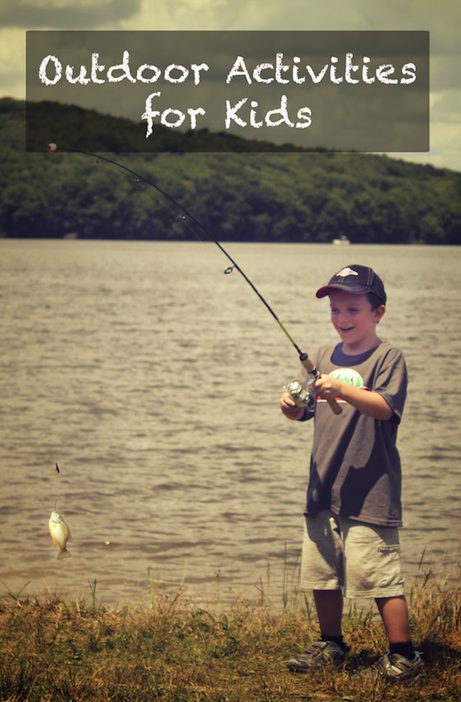 On that note, here are some simple ideas to make sure the wee ones have ample chances to get needed exercise and soak up all summer has to offer.
Plan Ahead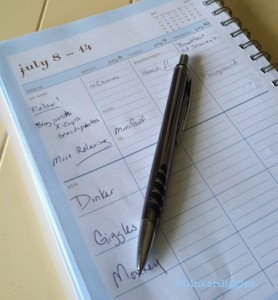 Even if you're not super scheduled, it might help to put some outdoor activities on the calendar, just to make sure they happen. I've realized lately that if I'm not intentional to mentally note or jot down in my planner a couple activities a week, we spend more "bored time" inside than is helpful—for everyone.
This looks like my kids wandering aimlessly, finding drawers to climb in and jump out of, and running a few too many shopping cart races around our kitchen.
Invite Some Friends
For me, inviting friends to join us in our outdoor endeavors is a surefire way to make sure they happen. Not to mention the fact that a little moral support from another mom is helpful when taking a wild 18 month old and his daredevil big sister to the pool.
Especially with young children, exploring a new spot or activity can feel overwhelming. In such cases, I enjoy having friends along–especially those who are familiar with the spot or have older kids who like to help with the littles.
What to Do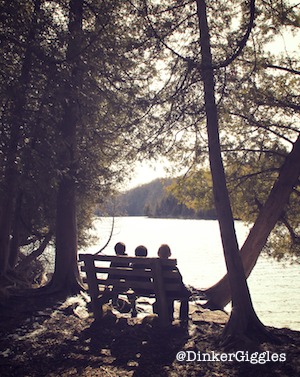 Nature Walk—Inspired by Keeper of the Homes's In a Rut? Take the Kids for a Morning Nature Walk, I recently took my kids on what ended up being an hour-long trek through a nearby field. We spotted tiny frogs, picked wildflowers, and cooled off with the hose when we got home.
Head to a Splash Pad—Seriously, who thought these things up? Genius.
Baby Pool in Backyard—Even for slightly older kids, a big enough inflatable pool can be enjoyed on a hot day.
Trip to the Pool—This is where I like to bring a friend for reinforcements.
Tag or Races in the Backyard—While my children don't yet run in straight lines, I imagine we'll be racing a lot when they do.
Slip-and-slide or Sprinkler—Akin to the splash pad and arguably better because you don't have to pile anyone into the car.
Paint with Water—This simple but fantastic idea is one I heard recently from a friend. I will shortly be filling a bucket full of water and handing out paintbrushes/roller-brushes. I imagine they will paint the sides of the house, patio, and each other.
Go for a Walk with a Wagon—Personally, I'm baffled by the concept of the wagon. The children ride–as in a stroller–only it's more awkward to move them along. And yet everyone in our neighborhood seems to have one. Now if I had big kids who could pull the smaller ones in the wagon, I'd say sign me up.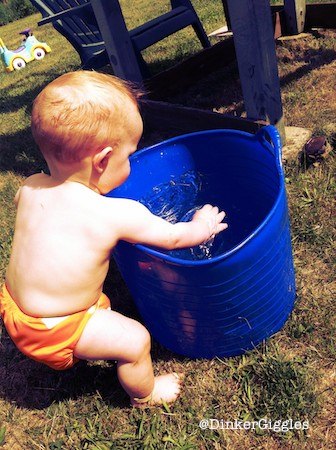 Bike/Trike rides—While learning to ride can be a painstaking process, I'm sure that once we've mastered it, bike-riding will be our go-to.
Local Outdoor Spots—Check out local nature centers, state parks, creeks, or farms. We've recently done all of the above except the nature center and I've been happily surprised by all that our area has to offer.
Rainy Day Ideas
And, on rainy days, there's always letting them run laps around the kitchen, play ball in the basement, or heading to a local children's museum. Or, if you're really brave, the local mall playground. Personally, I am over-stimulated by the thought and will probably stick to the basement.
Afterward
I've found that after my little ones have run themselves ragged, it's helpful to transition to something less stimulating: a cold drink and snack, a smoothie or Popsicle, and some quiet down time inside. Their little bodies rest, mommy rests, and all is well with the world.
What are your favorite outdoor activities for summer?
Share below in the comments!