When heading out on the road either for a quick family vacation or a long term adventure, you need to keep an eye on your budget. From fueling your vehicles, to places to lay your head, or to even the clothes on your body.
As our family dreams about that ultimate long-term adventure of RVing across North America, I've been looking into apps and ways we can save money along the way. Feeding and clothing four growing boys is difficult enough in today's economy let alone when adding in the unique nature of being on the road.
The Clothing Battle
One of the biggest battles I face is with clothing. You'd think it would be easy having four boys and being able to hand clothes from one kid to the next. Have you ever met my boys? They hit the dirt hard and have never heard the concept of not tracking it through the house. Not only do they wear their clothes thin from playing but they all hit the seasons when they are in different sizes.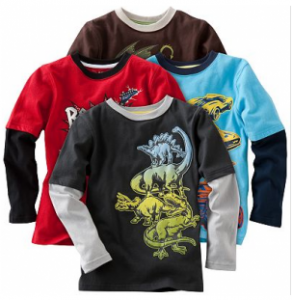 So in our family hand-me-downs are not a great option for keeping the clothing costs down. But the clothes that others do not want are often like new, no wear, no tear, no thin knees from crawling around pretending to be a dinosaur. However, thrift shops are a hit and miss type of shopping trip. Finding solid clothing in the size and season we need isn't always successful. When you do score it's often big – thick Levi's for only a dollar or two.
So when I need certain items and I can't wait to score big at the thrift store I hit up my favorite retail shop – Kohl's. You may be asking why I don't go to some of the other box stores known for their rollback prices. Many times they don't have what we are looking for as the boys' section is typically one or two racks. Also, the clothes that are there in mass is the store brand that uses thinner, cheaper material.
I love that we can find the well-made brands with stackable coupons and sales. Using the sales and coupons I have walked out of a Kohl's with a number of LEVI jeans for about $20 that will last through all the rough, dinosaur playing.
Besides our never ending battle with the clothing, my other big concerns are keeping fuel in the tank and the bellies. Also, free places to park. A little digging found three amazing apps that will help us keep on track with our budget and still be able to create memories.
There are many other ways to save when on the road – but for now I'm thinking of the key items that are going to be make-or-break for our dream to travel North America in an RV. The gas for our truck, the place for us to park, being able to eat out at local restaurants and keeping ourselves dressed in quality, lasting clothing.
What ways does your family save when on the road?
Share below in the comments!