A Showing? Yeehaw! Not Yeehaw.

Alaina Frederick, the mom
Selling a house can be stressful. Add the fact that you need to keep living it it…with four kids…with two dogs. And just ugh.
* * *
My mother has moved homes a bit ever since I was a teenager. Typically relocating every five years after we left my childhood home of 14 years. Oddly enough with all that moving, the only thing I remember is the actual moving. Stuff into boxes. Boxes into a truck. Boxes off of the truck. Followed by my mom freaking out as to what did she do and where was everything going to go. She'd then spend the next five years molding and shaping the home into her current-season-of-life dream home. Then when all the projects were done, she gets a new house and a fresh slate to craft into perfection.
New kitchen. Expertly coordinated color pallets. New landscaping. Magazine worthy decor. It's a fun process to watch. She's in the beginning stage of a new home right now. This one by far is the most exciting as she has been changing her decor and picking colors entirely different from before. She's going bold, yet subtle and yes you can do both. From an elegant decor to one of shabby, chic, beachy comfort. Is that even a style? Not sure but she is making it one, and it's coming together nicely.
Yet through all of that, I still don't ever remember the stress of selling a house. Perhaps because I was just a teenager or maybe because it was so terrible that I've blocked the memories in my head. But as my husband and I go through the process of selling a house, while living and working in it with kids and dogs…. whew. It's exhausting. It's stressful. It makes me want to buy a house never-ever again.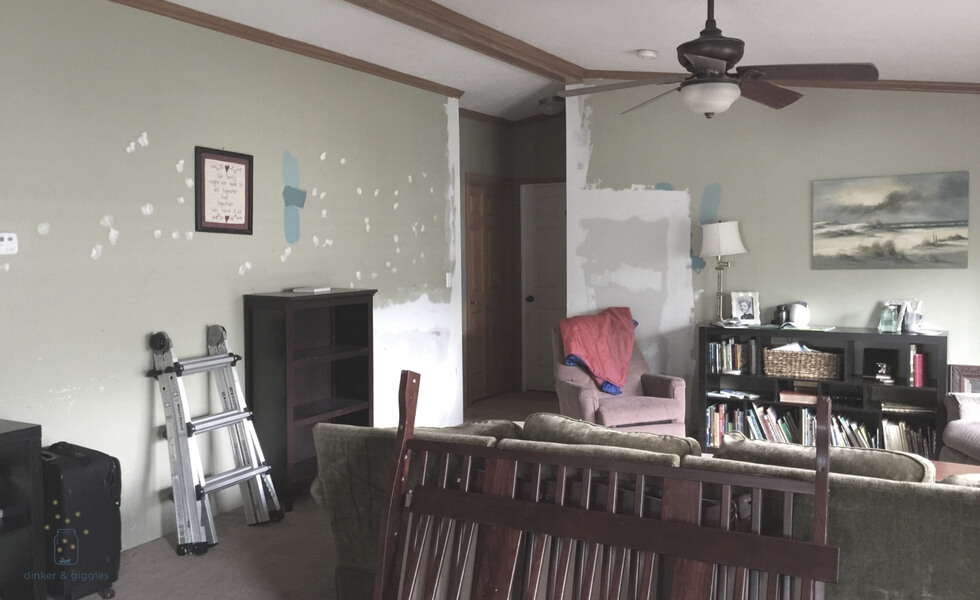 Getting the living room patched and ready to paint.
Photographs by Alaina Frederick
Disclosure: Some of the links below are affiliate links, meaning, at no additional cost to you, we may earn a commission if you click through and make a purchase.
Not only are we exhausted, but the boys are too. Anytime was say "we've got a showing tomorrow" they slouch and moan and groan. Time to clean and get all of their LEGO® creations picked up and placed in the closet. Having to figure out where we are going to go. Hmm…what errands can we run today? It's most difficult on rainy days as we can't go to the dog or human park. (Yep, in our area dogs aren't allowed in the park except one fenced in an area specifically marked for dogs.)
As the dogs run and the boys throw the balls back and forth, we can't help but wonder about what the people looking at the house are thinking. What do they like… what do they dislike? Are they going to love the backyard as we do?
The backyard is what sold us on the house. It's nothing spectacular, and on hot, sunny days I long for more trees. Yet, it's magical. During the spring and summer at dusk, all the lightning bugs (or fireflies… pick your flavor) come out and dance; filling the view with a magical fairy dusting of sparkling light. The crickets sing their songs, and the cool breeze sweeps across the porch.
During the winter that same backyard turns into a white blanket, and the deer often walk through just as we are eating breakfast or dinner exciting the boys and brightening our day. It is something special, and still not a single offer. It's been weeks and nothing.
The constant cleaning, repairing, cleaning, leaving home, cleaning, it wears on you. It brings the worst out in you and your marriage. I do try to hold an active positivity.
I've been digging into The Abundance Factor, You are a Badass at Making Money, The Secret, The 5 Second Rule… just to name a few…and they all say the same thing. We create our current and future with the things we say and think in this moment. Our minds are incredibly powerful.
So I dig deep. I affirm that the house sold for an amount more than we expect. We hold hands and pray before we leave the house for a showing. We declare that 'they' will fall in love with everything that we loved. And….. crickets. Just the sound of those lovely crickets. No offers to accept or even counter.
It's a process that starts to eat at your faith. Makes you wonder "Am I not praying enough?" "Do I not believe enough?" "Are we not good enough?"
But it's not about that. Perhaps the right family hasn't come along to see the house. Perhaps God knows the timing isn't just right. We to continue to have faith and affirm positivity. Because no matter how frustrated we get. No matter how much we start to doubt or wonder. In the end, it all works out. In the bigger picture of life, we are still protected by His Word.
Sure, we'd love to have sold the house weeks ago. But it wasn't time. And even as frustrated and stressed as we are those magical lights still fill our yard every evening. And every time I see their dance against the backdrop of all the trees that line the back of the yard, my peace is renewed. My faith is renewed.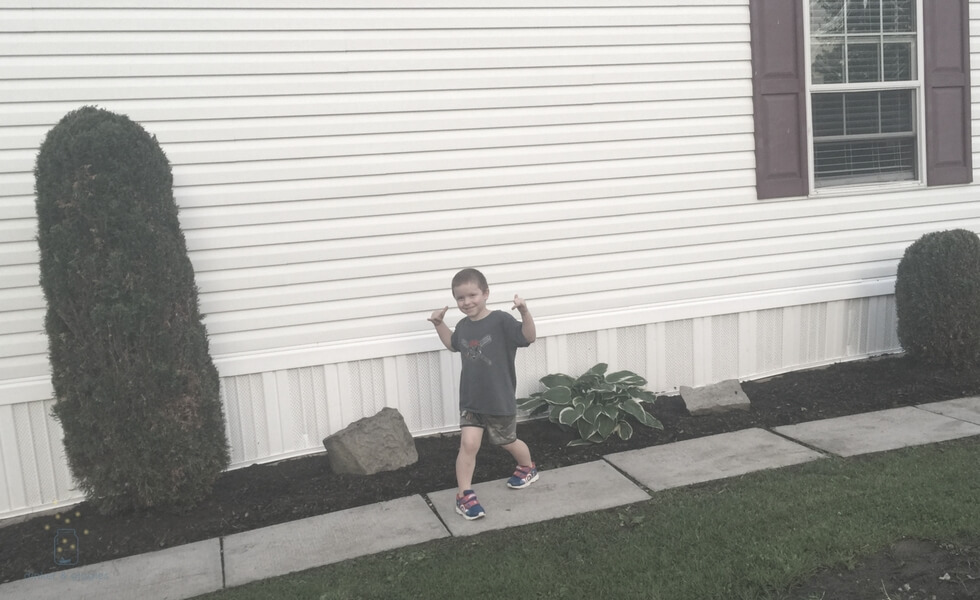 Mr. T in front of our house just after we finished trimming the plants and refreshing the mulch.
Photograph by Alaina Frederick
So while we are in the thick of it, I ask myself, would I repeat this process? No. I'd find a way to have the family in another location. Or I just wouldn't buy a property and instead rent. If you have any advice on how to deal with trying to sell a home while living life in it … please leave a comment below. I am interested to know how you did it!
I am sure we will do it though with a positive mindset, elbow grease, and a little patience. Our story isn't over. Just this chapter has reached its end. It's time to move onto our next chapter, which is a whole other blog post!
We keep on keeping on. We peel the paint. Yes, peeling paint. The paint had started bubbling recently as the previous owners put paint on that didn't mix with the paint below it. Thus, the paint has decided it's time to go.
Mr. T helping to peel paint, yes paint!
Photographs by Alaina Frederick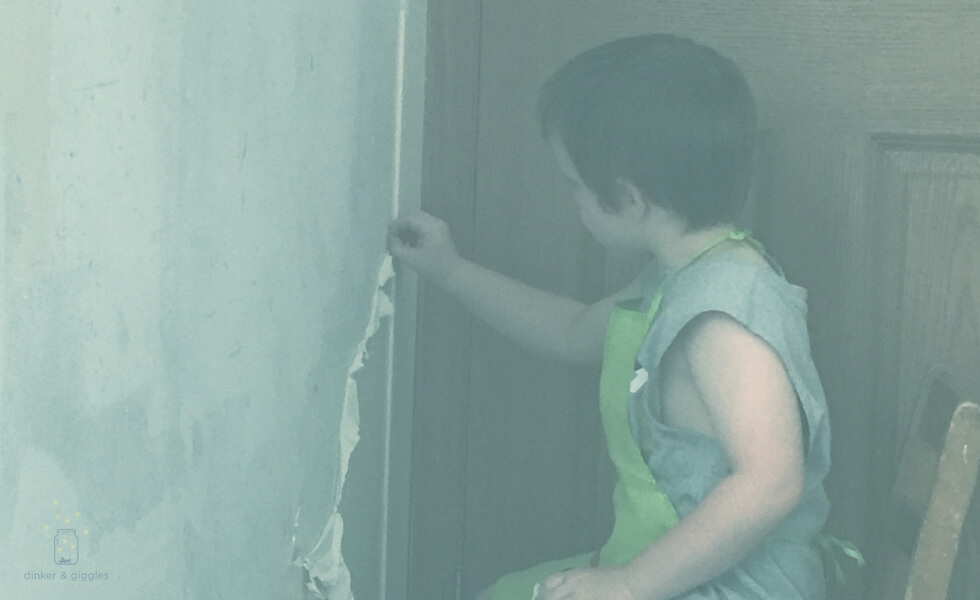 Let me just tell you that I'd much rather peel wallpaper off the walls of a mansion then paint off the walls of a small room. But at least it gives the little one something to help out with. He loves to help and I gladly welcome it!
This week we are trying a new strategy with our real estate agent and I expect to close before the end of the month. It's time. The perfect buyer is out there. They'll fall in love with whatever it is about the house that they love. It doesn't have to be the same features that we fell in love with as they are their own person. For me, putting an end to the waiting and the wondering is rewarding enough. But the icing on the cake is closing on the house and starting out on our next adventure.